Holly - a must for winter berries
The holly is an iconic plant that likes to share the forest floor with the mighty oak, so this slow-grower prefers good drainage. Our prickly native form, Ilex aquifolium, takes its species name from Aquila the eagle indicating the talon-like sharpness of the tips on each leaf. Although evergreen, some leaves are shed throughout the year, so this is best planted away from borders you weed by hand. Unless you have masochistic tendencies!
The Downton Effect
Thankfully a less-prickly holly occurred and was first identified at Highclere Castle in Berkshire, now famous as the setting for Downton Abbey. These rounder-leaved hybrids are named Highclere hollies, or Ilex x altaclerensis, and they form curved bushes far more quickly than the slower growing Ilex aquifolium. Better still their leaves are almost spineless, so kinder on the hands. There are several varieties and they can be trained as a hedge, topiarised into mop-headed standards, or just left to their own devices.



Berries Galore
The prickly Ilex aquifolium can produce lots of small berries in abundance. However the larger leaved Highclere hollies (I. x altaclerensis) produce much larger berries but not in such great numbers. Most named hollies are dioecious: they either have female flowers that turn into berries, or male flowers that produce lots of necessary pollen to fertilise the female flowers.
It Takes Two to Tango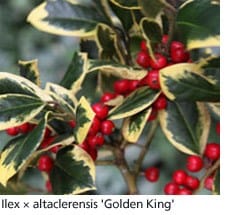 The males and females generally need to interact together and be cross-pollinated by the bees. In built up areas, or places where wild hollies abound, there will be plenty of male and female hollies already rubbing shoulders. If you decide you need both however, take care when choosing as their plant names do not always reflect their true gender. Ilex x altaclerensis 'Golden King' is a female and not a male as its name suggest. The dark-green leaves, roughly margined in yellow, are bright and lively and add even more colour.
Or you might consider the pyramidal prickly holly Ilex aquifolium 'Argentea Marginata', with its crisp combination of ivory-white and rich-green quilled foliage. The red berries, lavishly produced, show up well against the silvery foliage. Variegated hollies are extremely useful for brightening up a garden, whether you go for cool and silvery, or brash gold and green.
An Exception to the Rule
Green-leaved hollies are also worth growing, because rich-green foliage is the best winter warmer of all. One self-fertile holly, Ilex aquifolium 'J.C. van Tol', will berry on its own and produce heavy clusters all along the stems. It's vigorous, fast-growing and the rich-green leaves are not as spiny as many, so it's often used for holly wreaths. It's also the provider of the perfect touch of red for the winter garden.