January marks the start of the gardening year, because the days are stretching out and by the end of the month it's quite possible to get six or seven hours a day in the garden, should you want to. Most gardeners are champing at the bit, so whether you're out or in, it's a great time to look forward to the new gardening year and plan for some extra summer colour. That's one of the great things about gardening: you're always looking forward to the next season or two and that's a godsend in the depths of winter!
There are plenty of summer flowering bulbs to order now and they will add lots of razzmatazz to your garden. They sell out quickly, so be quick. If you've got a heated greenhouse you can start these off towards the end of the month. However if you've only got an unheated greenhouse, or no greenhouse at all, you're better off waiting until March because many of these summer flowering beauties are frost-tender. Whenever you plant a corm, a tuber or bulb, you're guaranteed to get flowers because that little brown blob in your hand is primed to flower this year. You can't fail to work some magic.
One of the fastest out of the block is the ranunculus and these have frilly, globular flowers in a rainbow of colours. The raisin-like tubers will flower in late spring or early summer, but they're remarkably hardy. Pot them up singly and they'll brighten a plant theatre. Or, if your garden's warm, plant them straight into the ground. Many florists line them out for cutting. Ranunculus 'Purple Heart' is a dusky purple that would enhance pale pinks and whites.
You can also start off begonias in early spring and there's been so much breeding in recent years you're almost spoilt for choice. They're one of the most useful summer flowering bulbs because they tolerate shady positions due to their South American provenance. Many grow in wooded situations. It's traditional to wait for the tubers to show a touch of leaf before you pot them up and the saucer shaped tubers only need the barest covering of compost above them. Their concave shape can collect moisture, so water carefully until your begonia really gets going.
Flower size varies enormously from fully double to pendent single and there are vivid reds and soft pastel colours. Paler colours can be scented and they show up well in shadier situations. You can grow them in pots, or you can put them into hanging baskets, but they always appreciate a shadier site rather than full sun. Flowers appear in July and carry on until the weather cuts them down, usually in November. They're very trouble free and they drop their flowers cleanly, although they do appreciate a fortnightly dose of tomato food. If you want to save the tubers, lift them or take your pots under cover, before the first frost.
One of the newest begonias is 'Sunset Yellow Champagne', a cascading soft yellow double with a touch of apricot. This almost certainly arose as a sport from the peach coloured 'Champagne' and this is another excellent trailing begonia for a shady spot. Cascading begonias, with a tumbling habit, soften the edges of containers. They always look natural in the garden because most have a mixture of large double and smaller single flowers, so they're rarely vulgar. The double flowers are male and the smaller, single flowers female and normally each double male is framed by two single females. The blush pink 'Mother's Day' and the mid pink 'Blushing Star' are both feminine, frilly additions. There are also plenty of deep reds and these include 'Vibrant Star' - and plants in the Star Series have large leaves and a more upright habit.
Pendulous begonias descend gracefully and 'Red Giant' has long stemmed single and double flowers framed by red backed, jagged green foliage so this is drama in the pot, window box or hanging basket. You'll also get a touch of the exotic from cannas and Canna 'Phasion' combines orange flowers and striped green, purple and green foliage. Cannas succeed in open, warm positions and they need moisture when they flower, so be prepared to water them.
Hedychiums, or ginger lilies, produce spikes of scented flowers and H. gardnerianum is generally hardy enough to leave in the ground in well drained soil. It's also good in a large pot. The buttermilk flowers, which have long orange styles, appear in late summer and one large potful will scent a patio, terrace or conservatory.
Less well known is the hardy orchid, Bletilla striata, commonly called hyacinth orchid or Chinese ground orchid. This native of Korea and Japan has pleated, linear green foliage and this appears before the airy spray of pink flowers. Although Bletilla striata has a reputation for being less than hardy, I have seen this poking through snow in north Japan. Good drainage is key however. Try it against a south facing wall and water it in early summer - to emulate Japan's rainy season.
There is one plant that really does stand for summer colour though and that is the dahlia. Tubers go on sale in January and the best varieties get snapped up there and then. However most gardeners wait until March before planting and you do need to start them off in a frost-free place. Grow them on an put them outside during the first week of June, after the fear of frost has passed.
Some of the heritage dahlia varieties have been around for decades and the 'Bishop of Llandaff' is almost a hundred years old, yet it's in everybody's Top Ten. It combines ferny dark foliage and semi-double bright red flowers and it's one of those dahlias willing to flower in cool summers and in heat. It's spawned a lot of offspring with Bishop in their names, although none are quite as glorious as the original 'Bishop of Llandaff', named in 1922.
Single dahlias are bee and butterfly favourites and they often have good foliage. They blend into the summer border with ease and they produce lots of nectar rich flowers until the first frosts. They're responsible for bringing dahlias back into fashion from the doldrums. One of the finest singles is 'Twyning's After Eight', a dark leaved dahlia with white flowers flushed in pink. This forms a bushy shape, so give it space to shine.
There are many single flowered dahlias suitable for containers and these include The Happy Single Series. Happy Single Wink, an award winner, has mid-pink single flowers flushed in a raspberry-pink middle and the foliage is nearly black. The Dark Angel Series is more diminutive and 'Pretty Woman' shares the same two tone pink flowers, but with bronzed foliage, and each flower is just wide enough to support a butterfly. There's also a vibrant pink called 'Braveheart' and a sunset coloured one called 'Star Wars'. A large pot will need three Dark Angels because this series is compact.
The resurgence in popularity, fuelled by single dahlias, prompted gardeners to grow lots of different forms with fuller flowers. These not only last longer in the garden, but they also cut really well too. The more you cut, the more flowers come, and you should expect at least three months of flower from your plant. Several Series have been specially bred for the cut flower market and they do last longer in water. The Karma Series includes 'Karma Choc' - one of the best dark red dahlias. The waterlily flowers and dark green foliage make for a striking combination and this dahlia has real flower power. 'Karma Fuchsiana' is a dayglow orange-pink and the Karma Collection also includes 'Pink Corona'.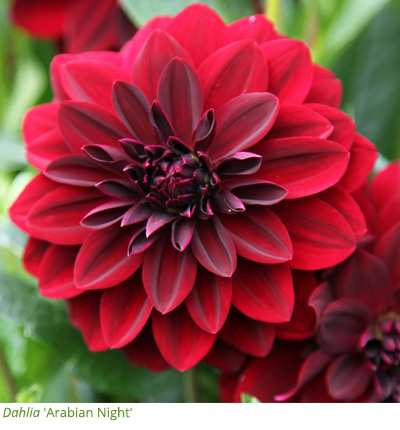 Dark, sultry dahlias create a contrast in vase or border, highlighting yellows and oranges and blending with pinks and mauves. Few other flowers come in those sultry shades, so deep reds are always popular with florists. They also add an uniquely ornate quality to a late summer dominated by golden yellow daisies. 'Chat Noir' is a particularly strong dahlia with large flowers and the ubiquitous 'Arabian Night' bears a profusion of smaller flowers. It's tall and has the ability to pop up though a border. Slugs are less of a problem if you put a large, well grown plant out in the second half of June.
Warm sunset shades also come into their own in autumn and 'Totally Tangerine', a shorter dahlia with a peachy pink collar of pointed petals surrounding a darker fuzzy middle, is a great front of the border dahlia. It also does well in a pot.
The Gallery Series, usually reaching between two and three feet, slots into the front of a border really well. They're mostly named after painters and 'Leonardo' has peach sorbet flowers. 'Rembrandt' is a mid pink and 'Art Fair' a green washed white. These were selected for the number of flowers produced and the strength and length of stem.
Pink and purple add depth to a border and one of the best heritage varieties is 'Thomas A. Edison', a purple Decorative dahlia with flowers that glow from late summer onwards. If you want more drama, use a cactus dahlia and 'Ambition' has magenta-pink flowers, or head for 'Vancouver', a showy white tipped pinkish purple beloved by dahlia aficionados. You can cross the rainbow when it comes to dahlias and they're right at the top of the style stakes, because nothing produces that much colour for so long.
You've also got plenty of time to plant lilies and you can either go for colour or fragrance because it's the paler lilies, or those with a white or pale background, that tend to be fragrant. 'Curly Sue' is a pale pink lightly freckled in maroon-red and the petals curl back on themselves. 'Tigerwoods' is a crimson banded white, lavishly speckled in red and both pack a fragrant punch. Or you could go double with the Lotus Lily Series. 'Lotus Wonder' is a multilayered bubblegum pink and it will reach over 3 feet in height. If you're planting in pots make sure that you use a wide based container and then you can enjoy them in high summer. Just planting a few brings summer one step nearer!